Naomi Osaka recently made history when she won the US Open.
As Naomi Osaka raised the US Open trophy in the air after her victory over legend Serena Williams, she also became the first Grand Slam champion from Japan and immortalised herself in the history books.
Though controversy and much of the headlines surrounded Williams and her defeat to the Japanese, Osaka deserves all the plaudits for not only winning it, but doing so at the tender age of 20.
Her victory signals a change of the guard in tennis, and she's not the only young Asian to make her mark on the sport.
Athletes all across Asia are threatening to make a mark in their sports, and Business Insider takes a look at the top 5 Asian athletes under the age of 25.
1. Amir Khan, 23, Mixed Martial Artist
MMA artist Amir Khan.
Evolve
With mixed martial arts (MMA) still a young sport (It has only started to attract mainstream attention over the past few years), it is encouraging that aspiring Singaporean athletes already have someone to look up to.
Being only 23, Amir Khan is currently on the path to win a world title with the leading Asian MMA promotion in the world, ONE Championship.
Training out of gym Evolve, Amir, who was a champion in Muay Thai before he even started his MMA career, currently has a very impressive record of 11 wins and only three loses.
With his latest win, Singapore could have its first male MMA champion on its hands.
2. Yun Sung-bin, 24, Skeleton Racer
Skeleton racer Yun Sung-bin.
Sporting both the ability and the looks, the 24-year-old South Korean won the gold medal in Skeleton Racing at the 2018 Pyeongchang Olympics, making him the first Korean and non-European or North American athlete to medal in the sport.
For those unaware, the sport of skeleton racing is single rider slides head-first down an ice race track in a small sled called the Skeleton.
With his win, Yun Sung-Bin, whose nickname is the "Skeleton Emperor" not only broke records, he also gained a lot of admirers in the process.
3. Saikhom Mirabai Chanu, 24, Weightlifter
Weightlifter Saikhom Mirabai Chanu.
Breaking six records in six lifts to finish first the women's 48 kg with a combined effort of 196kg to smash her previous career best of 194kg, Saikhom Mirabai Chanu did her country proud when she won India's first gold medal of the opening day of the 2018 Commonwealth Games.
It was her second Commonwealth Games medal – she also won the silver medal in Glasgow 4 years ago when she was just 20, as reported by the Times of India.
Saikhom has been recognised as the successor to India's first individual woman medalist at the Olympic Games, Malleshwari, and if she continues to break records, she truly be one of India's greatest athletes.
4. Kang-in Lee, 17, Footballer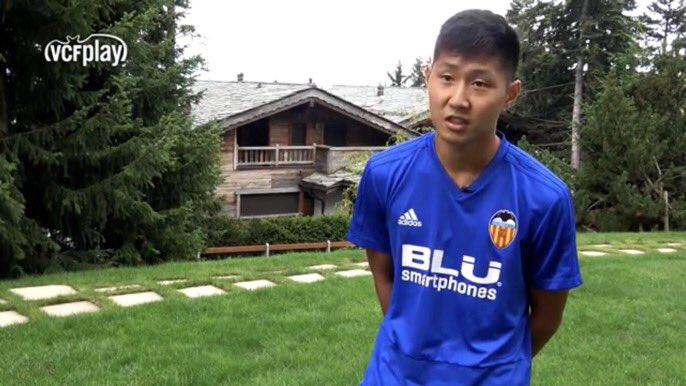 Footballer Kang-in Lee.
Kang-in Lee is currently plying his trade at one of the top teams in Spain, Valencia CF, and at the time of writing, he's only 17 years old.
This attacking midfielder, fast and skillful enough to play on the wing as well, was promoted to the club's first team squad from the developmental in July and made his debut in pre-season.
Interestingly, Lee was also part of a popular Korean television reality show called "Shoot Dori" when he was younger, according to Tifo Football.
In 2011, he left his home country join Valencia after leaving his hometown club Incheon United, making his way up the ranks and making a name for himself.
5. Naomi Osaka, 20, Tennis Player
Tennis player Naomi Osaka.
Osaka of course, needs no introduction.
The 20-year-old set the world on fire when she won the US Open, and much like her opponent Williams, both Osaka and her sister Mari were first coached by their father according to The Straits Times.
She proved to have a humble and shy side as well, after she apparently felt like she "had to apologise" after beating Serena Williams in the final.
Starting her professional career in 2013, she has beat the likes of Maria Sharapova, Karolína Plíšková and Simona Halep, proving that she can hang with the titans of woman's tennis.
With the likes of Osaka set to take on the world of woman's tennis, the future for her, and all the other athletes on this list, is extremely bright.